TrustSource is able to integrate with Jira to allow your Code Compliance Manager to push issues identified back into the backlogs of your development teams. To allow this, you require the following pre-requisites:
An existing Jira-installation that is accessible from the internet
A username/password combination
At minimum a Corporate subscription at TrustSource
You then may choose to activate integration on corporate or project level.
ACTIVATE Jira Integration ON CORPORATE LEVEL
You may choose to provide a Jira integration with a particular Jira-instance on corporate level. This then will be used for all projects as default. It may be overridden on the project level.
Select "Integrations" from the menu at the gear icon in upper right of you screen.

Scroll to the Jira section and complete the following entries:

Company URL: the Url of the repository. Using Jira cloud, this typically ist the
Project Key: Give the identifier for the project in jira. This is the short acronym you will find in front of jira tickets
User: a valid username. We recommend to create a technical user.

Password: the corresponding password. Currently Jira does not provide a token based authentication solution.

Activate the Jira integration, using the ckeckbox

Press the "Update" button
When you see a brief confirmation popping up in the middle of the screen, your are done!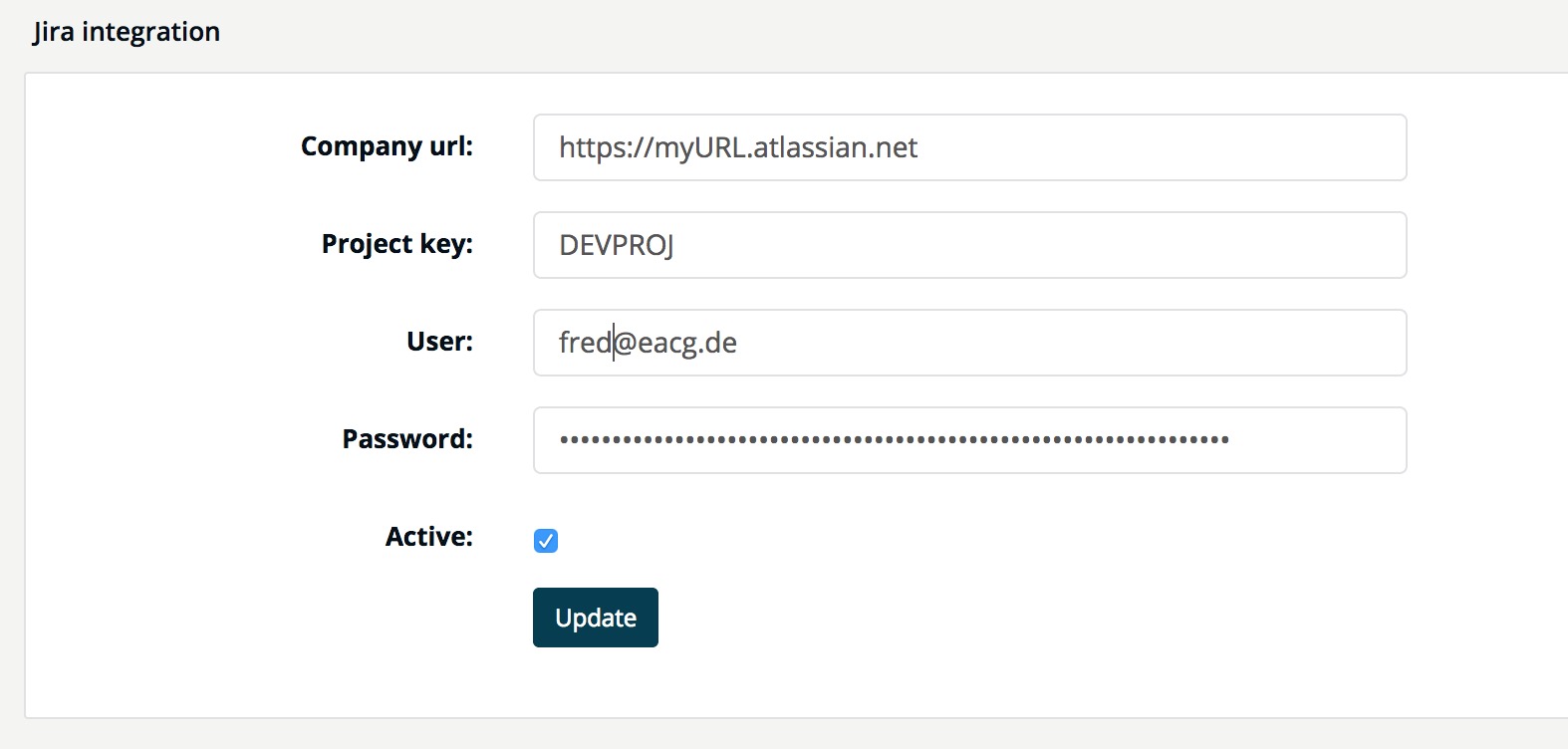 To verify it works, switch to a project and search for a vulnerability or a legal misfit. If you see the

symbol, you were successful.
ACTIVATE Jira Integration ON PROJECT LEVEL
Irrespective of what you did on corporate level you may override the settings on the project level. This is to allow distribution of tickets into several projects. To manage settings on project level, follow these steps:
switch to projects overview, e.g. by clicking on the main navigation on the left

select the project you want to modify

Click on "Settings"

Select the "Jira Integration" Tab

Follow the steps 2-4 above to complete the settings.

Start sending tickets.