Infrastructure modules are used to add components that are not part of the build process but also might either contain vulnerabilities or open source licenses.
Typical samples are Apache webserver, Apache Tomcat, Apache Camel, Red Hat JBoss, Database modules, etc.
How to add an infrastructure module?
You may add such a module on project level. Navigate to your projects view by clicking on the "projects" link in the navigation bar on the left of the screen. then select the project you want the module to be added.

Select the "Add infrastructure module" button and start typing name. Typically the name should appear in the suggestion box as shown in the picture below. If not, you may add it anyway. If it is an open source module - please indicate so using the checkbox on the lower right hand side - our backoffice will try to find the component and add it to the regular reviews, so that you will get updated on changes etc.
PLEASE NOTE: It might happen, that we will get in touch with you in case we will not be able to locate the component, based on the data you have entered. IF YOU DID NOT INDICATE IT TO BE AN OPEN SOURCE COMPONENT, IT WILL NOT APPEAR IN ANY OF OUR RESEARCH LISTS.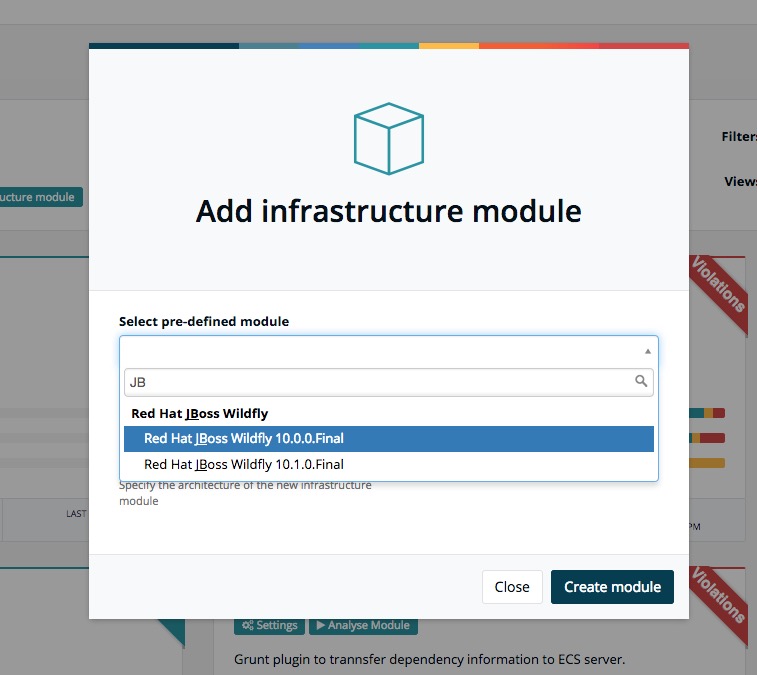 #
To get a sound evaluation, you should complete the selection of the position within the architecture. This determines important information such as the requirement for distribution, etc..