The following diagram gives an overview of the general content areas within the DeepScan user interface.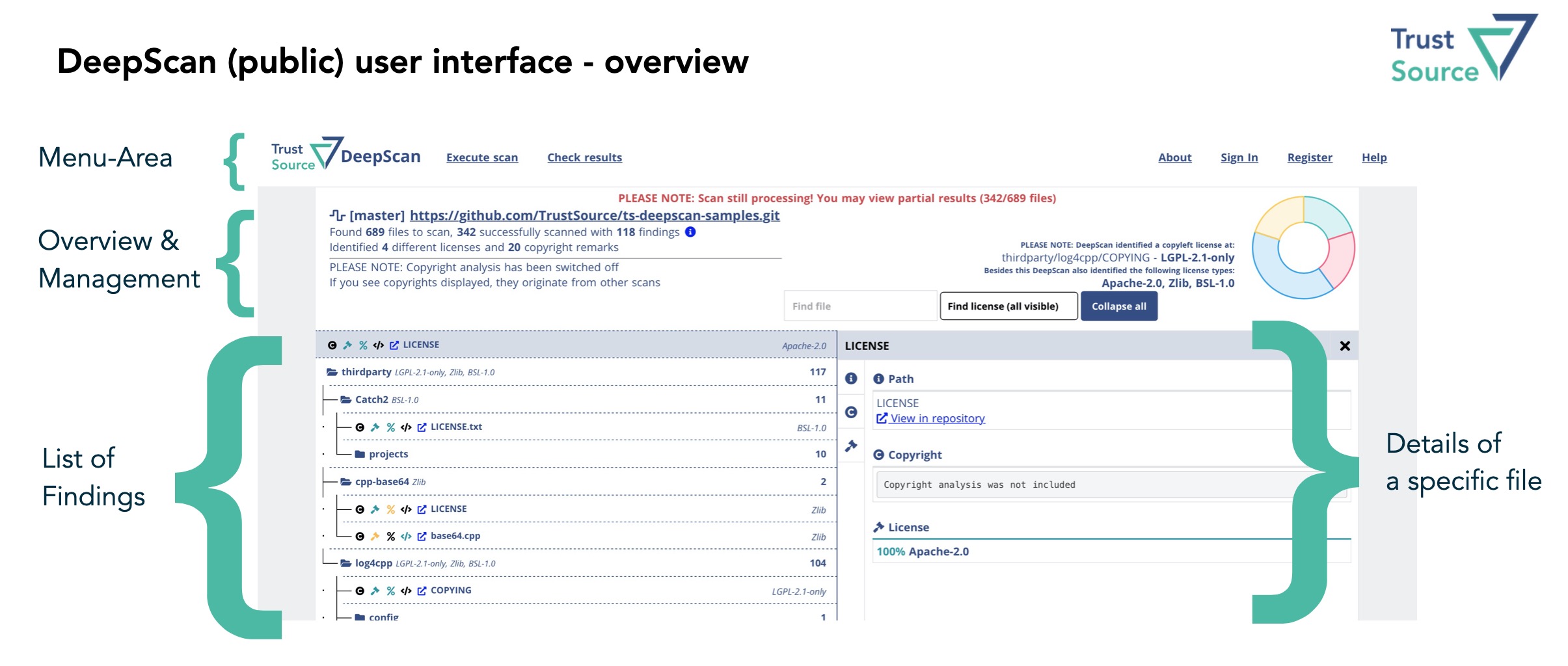 The Menu area contains on the lefthand side the two major links to manage DeepScan (public) actions. This comprises:
Execute Scan : here you post a repository URL. In return you will receive a scan ID
Check Results: allows to
The rest are further links, to learn more about TrustSource, Open Source Compliance or get in touch.
The Overview & Management area contains a summary of the most relevant findings. On the right side, you will see an overview of all licenses found and how they distribute in appearance concerning the number of files. Copyleft licenses will be emphasised.
On the left side will be a textual summary of the findings, like:
Found 689 files to scan, 342 successfully scanned with 118 findings. 

Identified 

4

 different licenses and 

20

 copyright remarks
The 689 represents the number of files found in the repository. DeepScan currently is not able to assess all file types, e.g. all sort of media is not assessed. Please find here the list of currently processed file types. Besides this, there might occur codepage errors, unreadably or fat files, which are not able to process. So watch out for the gap between the first and the second figure.
Another reason for a huge gap might be an unfinished scan. If you see the up- & down-line-symbol in front of the scanned repository name, you know, that the scan is unfinished. (Should be mentioned in the middle of the screen as well). In this case return a bit later and revisit. In other cases please let us know, so we might review, learn and improve.
The List of findings will show you all files where the scan was able to identify something. Whether it be remarks, copyrights or license tags, the file will be shown in the hierarchical position. The folder-structure of the repository is reconstructed to allow for better understanding of potential dependencies.
Clicking on any of the findings will open the details in the Details view on the right side of the content area. Here you can get detailed information about the file including a deeplink into the original file, potentially found copyright information and either an exerpt of the text pointing towards a license or a similarity value of the license itself.
PLEASE NOTE: Similarity values below 70% should trigger your attention. Here it is most likely that the identified license is somehow amended. In our next version we try to tackle this further but for now you should review it manually.